If you have a DVD movie and want to upload parts of it to your website, so how do you handle it?

As I know, you can use a converter that can rip DVD video file to FLV(Why FLV? Because FLV is your best bet) to your computer. To upload it to your website, you also need to make a Flash video player to control the playback of the Flash video files. You can do it in Adobe Flash CS3 with actionscript. Finally, upload all the web pages and Flash files to your hosting server.

However, all these things seem to be a little complicated to a beginner on this subject. Though there are a lot of DVD to website solution products but I am talking about one for free. They are Moyea DVD4web Converter and Moyea web player (it is free). This guide include two parts:
Part 1: How to rip DVD to flash
Part 2: How to put the converted flash videos to website

Part 1: How to rip DVD to flash
1. Download Moyea DVD4Web converter from http://www.flash-video-mx.com/dvd4web-converter/ for free if it is for personal use. Launch it.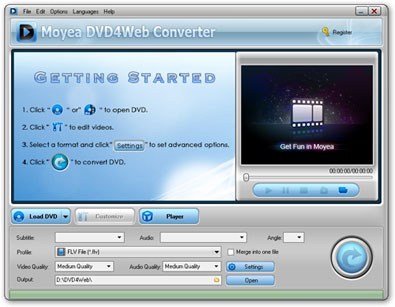 2. Import DVD file into the program
If there are DVD files in your computer, click the Load DVD button or Load IFO button, and a dialog box pops up for you to select the original DVD movies. Here, you have added the DVD movies to the product.

3. Set output file
After adding DVD movies to this DVD to Flash Converter, you can click drop-down button to open sub-directory: the titles and click drop-down button again: the chapters. Here, you can select the chapters you like to rip. Here you can set the output format as flv(flash video).

4. Customize the effect for output
Click "Customize" button on the main interface, you can start customizing effects for the output. Customize effect includes video effects, duration time trimming, and video cropping.

5. Complete conversion
You just need to click the start convert button to start conversion. After finishing ripping task, you can hit Open button to find the ripped files quickly and directly. Then it is ready for uploading to video share sites like YouTube, blog, any social websites for playback on them.

Part 2: How to put the converted flash videos to website
1. Download Moyea Web Player from http://www.playerdiy.com/, install and launch it. It is free.

2. Add the converted flash videos into Moyea Web Player (Moyea Web Player offers a free video converter to convert the unaccepted videos to flash videos)

3. Moyea Web Player publishes some files like a swf file named mwplayer.swf and a html file named index.html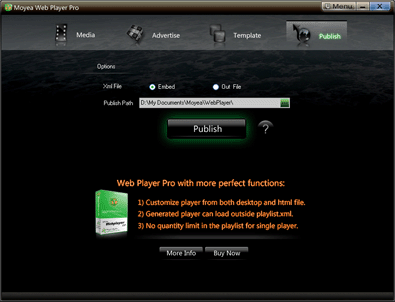 4. Upload all the published files to the same folder of your website.

5: Embed the generated player onto your webpage with the code below, (you can get it on the generated index.html file):
<script type="text/javascript" src="swfobject.js"></script>
<div id="flashcontent">Player will show here</div>
<script type="text/javascript">
var so = new SWFObject('mwplayer.swf','player','500','450','9');
so.addParam('wmode','opaque');
so.addParam('quality','high');
so.addParam('allowfullscreen','true');
so.addParam('allowscriptaccess','always');
so.write("flashcontent");
</script>

>>>Add JavaScript in blogger (blogspot) post

Then the flash videos will appear on your website.