On Windows if you double-click on a video file it will open in whatever video player you have installed. However, most common video players don't support Flash Video format (FLV's). So, double clicking on a Flash Video file generally does nothing.

So I have seen a lot of people on the Internet asking these questions - "How do I play FLV (Flash video) on my computer?" "Which program can play FLV file" "Which is the best flash video player?"

Advertisement by Leawo Free Video Accelerator - Watch and download online videos in high speed without buffering:


Wouldn't it be great if when you try to open a Flash Video it opens up in a Video Player so you can watch it?

Well, now you can.

Here I make a list of softwares that can play FLV on computer. Hopefully it can help you.

-

VLC media player


This player can be used in most operating systems, and can play just almost all video formats, including FLV (Flash video). The latest version is 0.9.



More screenshots here.

- FLV Player by Martijn de Visser
FLV Player is a standalone application to play Flash .flv files with. It is totally free, mainly used on Windows machine. Just as the reviewer said "Does exactly what it says. Much better than another product I had previously. Haven't found anything wrong yet." The latest version is 2.0.25.




- Moyea web player,

it is free


Moyea web player can also play FLV, it is a flash video player maker that provides quick and easy solution to add videos to web pages and produce the html page with the embedded skinnable flash video player to put on your website as well. In addition, it enables you to add as many advertisements (Ads) as you like into any video at any point-in-time, regardless of the number and kind of the Ads.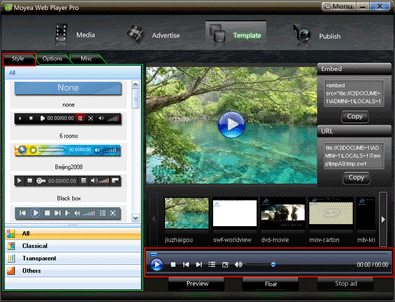 - The lastest version of Real player 11.0
As you have seen, the old version of RealPlayer cannot play FLV, so you must update it to version 11.0 or download a new one from its website.

- Media Player Classic
Maybe not many people Media Player Classic can play FLV, but it just can. I try it on my computer and it just play FLV well. In reality I use it on almost all my videos.

- MPW Player - Multimedia Web Player

This player is either a video and audio player, it supports media formats like MP3 and FLV, moreover, it is Open Source. The latest version in this year is 2.0.




- OS FLV - The Open Source, Embeddable FLV Player
The OS FLV Player is an Open Source, embedable player for Flash native video files. The player provides a large amount of options that can be changed in the embed code, a code generator written in javascript, a library of PHP functions, and, of course, fully open source code.




- flowplayer - video player for the web
Flowplayer is a GPL licensed video player for Web sites. Use it to embed video streams into your HTML pages.




- JW FLV Media Player
The JW FLV Player is the Internet's most popular and flexible media player.




- And these players, it is said that they can also play FLV, but I'm not sure: mplayer, totem, xine, smplayer...

Moreover, you can use Moyea video4web Converter to convert all popular video formats to FLV, and .mov, mp4, 3gp, 3g2. It is totally free, no watermark, no limitation, no registration, all features are free.