Flash Video (FLV) is viewable on most operating systems and web browsers via the widely available Adobe Flash Player and web browser plugin. Nowadays, most online videos are FLV.

A lot of people want to build their own style video sharing websites, maybe they have found web page templates for their website but do not have the code to make a flash video player on their websites, so they will be in a totally lost if they do not have knowledge and experience in Flash and actionscript.

Advertisement by Leawo Free Video Accelerator - Watch and download online videos in high speed without buffering:


I have found a tool, even if you don't know HTML or Flash, you can make a flash video player on your own. This tool is Moyea web player,

it is free

.

1. Launch the tool, here you can choose to select the videos you want to add to your website. Just click the "Add video" or "Add URL" button. Moreover, you can set the URL you want to visit after the video is finished displaying in the "Setting" tab, and use the four converters that recommended in the "Encoder" tab.

2. Next is the "Advertisement" menu, below this main menu, there are two sub-menus, they are "Advertise" and "Watermark", here you can add your advertisements and watermark to your videos, you must try these functions, becasue I think they are interesting.

3. Click the "Template" main menu, here you can highly customize the skin of your flash video player. You can choose control bar style, you can set the background color of the player, you can choose which control button you want to display or hide, you can set the style of the big play button in the center of the video...You can do a lot of things in this section.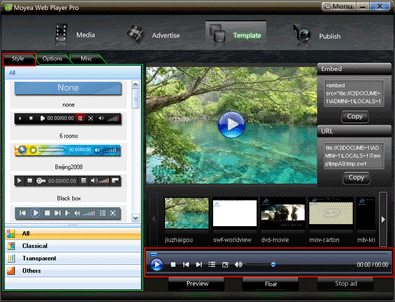 4. The last step is to publish the flash video player and the web page that have the player embedded. You can find all these files via the "publish path", upload them to your host web server, then the flash video player designed by your own will be viewable on your website.

That's all. Thank you!