MySpace is an extreme popular social networking website with an interactive, user-submitted network of friends, personal profiles, blogs, groups, photos, music, and videos for teenagers and adults internationally.

In MySpace, We can write article about life or tech and add it to new blog post, we can also add videos to blog post. As we know, Youtube is the most popular video sharing video website on the Internet. So here comes the question: How can I add Youtube videos to my Myspace blog post?
And this question has been asked by many people all around the world every day. Now I give a step by step tutorial on this question, hope it can help you.

Step 1. Go to Youtube and find the EMBED code for the video.
This embed code is in the "About This Video" section of the video and will be automatically be selected in the "Embed" textbox.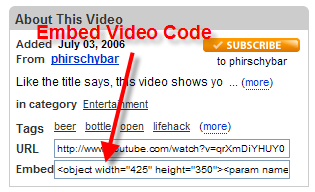 Step 2. Copy the embed code of the video on Youtube.
You can either use Ctrl+C on the keyboard or right click this box and select Copy to copy the code.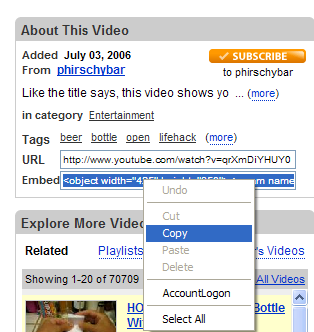 Step 3. Add the Youtube video to MySpace Blog new post.
Login into MySpace>>"Manage Blog">>"Post New Blog">>in the new post page, click "HTML" button on the text editor bar, and paste the embed code you have just copied from Youtube to the new post>>click Preview & Post to make sure the video is there, then click the Post Blog Button.

Manage blog
Post new blog
Click HTML button on the editor bar
Preview Youtube video
Done!
Related tutorials:
How to add flash video to your blog
Add YouTube Video to your MySpace Profile